About Lorelei Allison Conrad
Lorelei Allison Conrad,
LCDR

,

USN

, ret.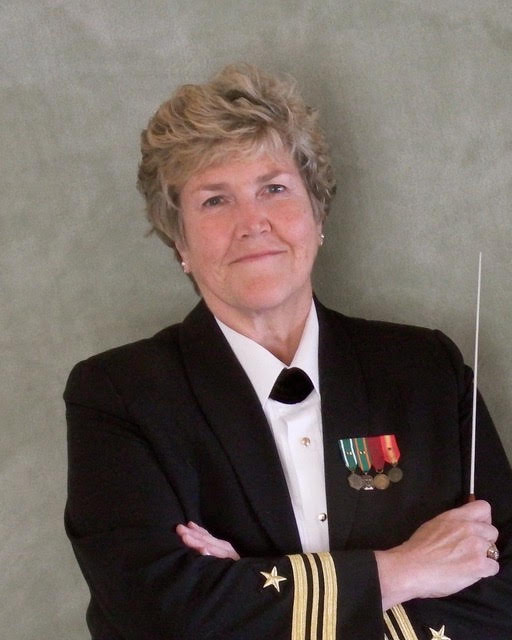 Lorelei Allison Conrad began her professional musical career as an enlisted trumpet player with the US Naval Academy Band. She later made US naval history as the first woman to receive a commission as Navy Bandmaster. Her officer assignments included Director of the Navy Band San Francisco, Associate Conductor of the US Navy Band in Washington, DC, Interim Music Liaison Officer for Chief of Information at the Pentagon, Fleet Bandmaster of the US Seventh Fleet in Yokosuka, Japan, Director of Training at the Armed Forces School of Music, and Fleet Bandmaster of the US Atlantic Fleet. Conrad has performed throughout the United States and the Far East Region including Russia, China, Thailand, Singapore, Indonesia, Australia, Guam, Saipan, and Japan. She has conducted performance with renowned artists such as Eddie Fisher, Lee Greenwood, and Irish Tenor Ronan Tynan as well as performances with the Tokyo Symphony. Since retirement Lorelei has been actively involved with a number of community organizations and is in her tenth season as Musical Director and Conductor of the Tucson Concert Band. Lorelei performs on trumpet with the Southern Arizona Symphony, serves as trumpet coordinator for the Tucson Repertory Orchestra and is a founding member of Desert Mountain Brass. She is active nationally as a guest conductor, an adjudicator, clinician, and as a staff conductor for the World Music Tours Community Bands at Sea program. Lorelei has enjoys performing on Electronic Wind Instrument (EWI) and has performed with many varied ensembles throughout the Tucson area. She earned her MM in Wind Conducting from Northwestern University, studied music education at Carthage College, completed a BA in Trumpet Performance at Metropolitan State College of Denver. Her most influential teachers include Dr. Antonia Brico, Mr. John P Paynter, and Dr. Mallory Thompson. Lorelei and her husband, Ray Conrad, also a retired Navy Musician trumpet player, love to travel, make music together, and learn about and experience different cultures.