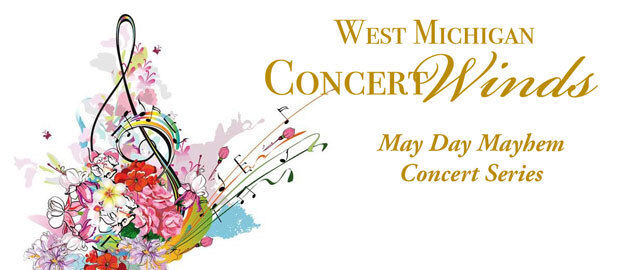 May Day Mayhem Concert Series - May 2, 2021
A Bandemic Mayhem - Three Recital Series
Recital #1 - Sunday, May 2, 2021 4pm
Thank you for joining us in this May Day Mayhem Recital Concert Series. We hope that you enjoy the concert!
To watch, please select the "enter full screen"

mode option below and then click the play button .
Recital #1 Concert
Gail's Welcome Video
Ain't Misbehavin by Fats Waller
Junie Parrish, Trumpet
Amy Vanderlaan, French Horn
Pat Parrish, Trombone
Vince Browand, Baritone
Mike Guthrie, Tuba
Mills Music, Inc.
Bird's Galopade by S. Knaebel, arranged by P. DeWalt
Anita Benes & Michele Wheeler, Oboe
from Red Balloon Technology Ltd.
"Blue Skies" -Irving Berlin Arr. Gregory Yasinitsky
WINDS Saxophone Quintet
Justin Auten, Soprano Sax
Matthew Ostion, Alto Saxophone
Amanda Serocke, Tenor Saxophone
Dan O'Neil, Tenor Saxophone
Randy Bufunda, Baritone Saxophone
Copyright 2002 by "The Estate of Irving Berlin"
Caledonia by Dougie MacLean (1977)
Scottish traditional folk music
arranged for Oboe and Harp by Sandy Beck
Anita Benes, Oboe
Sandy Beck, Harp
Theme to the Andy Griffith Show
Hagen/Spencer/Sloane
Jim Hilton & Vince Browand, Euphonium
Drum Stick Finger Snaps by Anita Benes
Transcribed by www.TubaPeter.com
Hungarian Dance No. 5 by Johannes Brahms
Arranged by Wanda Sobieska
The Trail Mix Trio
Anita Benes, Oboe
Linda Browand, Clarinet
Vince Browand, Euphonium
3 Sketches Movement III: "On Lake Wilson" by Patrick Glenn Harper
WINDs Woodwind Ensemble
Gail A. Brechting, Conductor
Suzanne Lavin, Piccolo
Anita Lauterberg, Flute
Anita Benes, Oboe
Jane Holt, Bassoon
Tom Oatman, Clarinet 1
Paula Whisman, Clarinet 2
Don Showich, Clarinet 3
Mike Hill, Bass Clarinet
Matt Lintula, Contrabass Clarinet
Justin Auten, Alto Saxophone
Matthew Ostion, Alto Saxophone
Amanda Serocke, Tenor Saxophone
Randy Bufunda, Baritone Saxophone
Copyright 2016 Patrick Glenn Harper