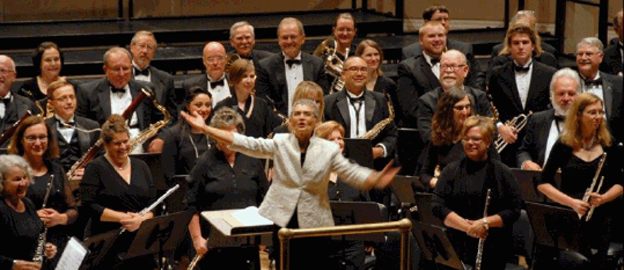 West Michigan Concert WINDS
The West Michigan Concert WINDS was founded in the fall of 1979 as a volunteer group of music educators and local residents dedicated to performing outstanding instrumental music in the community.
WINDs Celebrate 40th Anniversary!
History of the West Michigan Concert WINDS
Beginning its 40th season, the West Michigan Concert Winds, in collaboration with Muskegon Community College provides the chance to both hear and perform concert band music with one of the oldest and largest adult community bands in the state. This award winning band works together with community music organizations throughout the Midwest as well as high school music programs in Muskegon, Ottawa and Newaygo counties.
The WINDS continue to sponsor competitive scholarships, awarding over 20 in the last 20 years to outstanding area school wind and percussion players at both the middle and high school levels. Many of these musicians have been featured soloists in the band's annual Winners & WINDS concert. In 2015 the WINDS partnered with the Community Foundation of Muskegon County to promote additional scholarships for local students.
The WINDS has been a featured ensemble at the annual Association of Concert Bands (ACB) Convention as well as hosting the 2011 ACB convention in Muskegon. In 2015, the WINDS blew into the Windy City to perform at Chicago's Symphony Hall. In 2016, the WINDS was invited to and performed in New York's famed Carnegie Hall.
For its high standards of excellence in concert activities and for taking a significant and leading role in the cultural and musical environment of Muskegon County, in 2005 the John Philip Sousa Foundation awarded the Sudler Silver Scroll Award, North America's most prestigious award for community concert bands to the WINDS.