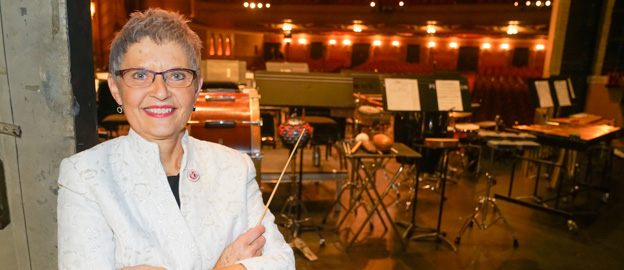 Conductor and Music Director
Mrs. Gail A. Brechting
Mrs. Brechting is in her 23rd year as the conductor and music director of the West Michigan Concert WINDS. Under her direction, the WINDS performed at the 2005 National Convention of the Association of Concert Bands in Quincy, IL - as well as became the 2005 recipient of the Sudler Silver Scroll, an international award recognizing excellence in adult community bands, administered by the John Philip Sousa Foundation. She holds a Bachelor of Music Education degree from Central Michigan University and a Master of Arts degree from Western Michigan University. She has performed trombone with the Traverse City Symphony, the Lansing Concert Band, the West Shore Symphony, many area musical ensembles and eleven years as the principal trombonist with the WINDS. She also is a much sought after soprano vocal soloist in the West Michigan area.
The WINDS have toured three times abroad under her direction - to Wales, England, Ireland, Austria Germany and Switzerland. In 2006 she was invited twice as a guest conductor to Louisiana, once with the Acadia Winds, and again as the featured conductor with the Louisiana Middle School Honors Band. In 2006, she was a clinic speaker at the International Midwest Clinic in Chicago, IL. In 2007 Mrs. Brechting went to Arkansas as the guest conductor of the Hot Springs Community Band. From 1996-1999 Mrs. Brechting represented MSBOA as the State Representative for the Michigan Youth Arts Festival, held on the campus of Western Michigan University. 2015 she and the WINDS performed in Symphony Hall in Chicago. June 2016 was a highhlight of the bands history to be selected to perform in the infamous Carnegie Hall! For more than thirty years, she has been an active district and state level adjudicator for low brass, bands and orchestras and has taught private trombone and tuba lessons for all ages for over forty years.
Presently, she is a band director at Muskegon Community College and is in her 40th year of music education, the past 34 years with the Reeths-Puffer School District. Mrs. Brechting is a member of the Association of Concert Bands, the National Band Association, the College Band Directors Association, the Michigan School Band and Orchestra Association, theWorld Association for Symphonic Bands and Ensembles, P.E.O. and the Woman Band Directors Association; Gail is serving her third term on the national board of the Association of Concert Bands, and is the first woman selected to be a member of the John Philip Sousa Foundations, Sudler Silver Scroll Award Selection Committee.
Mrs. Brechting lives in Spring Lake with her engineer/pianist husband Frank and their daughter Annelise.
WINDS Conductors
Fall 1996 - present
Gail A. Brechting
Fall 1985 - Spring 1996
Donald A. Miller
1979 - 1985
Dennis L. Emmons