The Best of the WINDS 2009-2011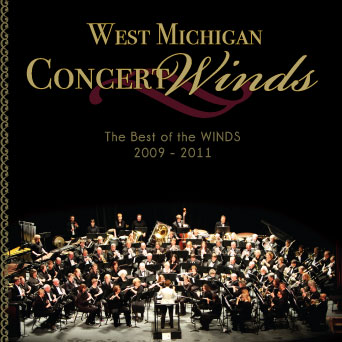 1. Fanfare and Flourishes - James Curnow, James Curnow, Guest Conductor
2. Chorus Angelorum - Samuel R. Hazo
3. ...Go - Samuel R. Hazo
4. American Overture for Band - Joseph Willcox Jenkins
5. Angels in the Architecture - Frank Ticheli, Jessica Dold, Soprano
6. Hackley March - H. Koelbel, Arranged by Matt Palmieri
7. Symphonic Jazz Suite, II Ballad Rock - Frank Bencriscutto, Matthew Lintula, Trumpet/Flugelhorn, J.R. Whitby, Alto Saxophone, with the Tim Froncek Trio
8. Sky Dance - Richard L.Saucedo
9. Glitter and Be Gay - Leonard Bernstien, Arranged by James Burke, Jessica Dold, Soprano
10. Communion - Carl Strommen
11. Hello Sunshine March - Yoshio Matsuo
CD ORDER INSTRUCTIONS
The "Best of the WINDS" CD will be available for sale at all WINDS concerts for $10.
If you would like to order by mail, send a check payable to WMCW for $13 ($10 CD and $3 shipping and handling) to:
West Michigan Concert WINDS
P.O. Box 1317
Muskegon, MI 49443
Include your name, address, city, state and zip code.
Thank you for your support. Enjoy the music!