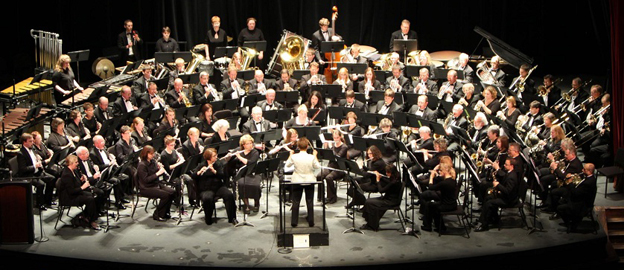 2013-14 Concert Season

Saturday, October 26, 7:30 PM
Westward Ho
Central United Methodist Church, Muskegon
Sunday, November 17, 3:00 PM
The WINDS Chamber Concert at "The Block"
The Block, Muskegon
Sunday, December 15, 4:00 PM

A Holiday Harmony of Voice and WINDS
with Barbershop & Sweet Adeline's
Mona Shores High School Performing Arts Center, Norton Shores
Sunday, February 23, 4:00 pm

Winners and WINDS
Reeths-Puffer High School Rocket Center, Muskegon
Sunday, May 4, 4:00 pm

Ein Deutsch Musikspiel Datum
A German Music Playdate
with Ein Prosit
Reeths-Puffer High School Rocket Center, Muskegon
Summer Concerts
Farmers Market Opening Celebration
Saturday, May 24, 10:30 AM
Friday "Sousa Band" Concerts on the Olthoff Outdoor Stage
Third Street, Downtown Muskegon
Friday, June 20, 6:00 - 7:00 PM
Friday, June 27, 6:00 - 7:00 PM
Bring your chair to these open-air concerts.
Summer WINDs Concerts

All Concerts will be held at Muskegon's McGraft Park
Tuesday, July 1, 7:00 - 8:30 PM
"Stars, Stripes & Sparklers" featuring artists from the WINDS
A Red, White and Blue celebration with patriotic music for the whole family to enjoy in the beautiful McGraft Park. Clap, tap, sing along and be a part of the sparkler surprise finale with the Summer WINDS to wish the USA a Happy 238th Birthday!
Tuesday, July 8, 7:00 - 8:30 PM
"Beach Bums & Flip Flops" featuring "Better than 1" Music Duo - Dan and Jodi Ellinger
Hawaiian Shirts and Flip Flops will be the attire for this fun concert with our musical guests the band "Better Than 1" - husband and wife team Dan and Jodi Ellinger. Music to take you on a sailing get away to feel the sand between your toes!! Bring your lawn chairs to enjoy an evening of lakeside musical memories.

Tuesday, July 22, 7:00 - 8:30 PM
"Dixie Date Night" featuring "The Lumber Town Dixie Ramblers"
Remember those summer nights on a date? The Summer WINDS will be playing music from all eras to remember those fun date nights. We are also bringing back the fun Dixieland Band from last summer with guests, The Lumber Town Dixie Ramblers". So join us with your "special date" as we recreate or create some new date night memories with a Dixieland twist!!
Acknowledgements
This Concert Series is made possible by a grant from the Nick Pool Performing Arts Fund of the Community Foundation for Muskegon County.